I've never put so much effort into a session report before, so I thought I'd stick it in here as well as BGG:
http://www.boardgamegeek.com/thread/333585
It is my final session report after my sixth game of GMT Games' Wilderness War BPA PBeM Tournament. The whole thing took two years!
Montcalm the Legend
How much do I owe the Marquis Louis-Joseph Montcalm-Gozon, Commander of French forces in Canada during the 1754 – 1763 French-Indian War?
I owe a spot in the BPA Wilderness War PBeM ("AM scenario") semi-final, for one thing - mainly thanks to a successful guerrilla warfare duck-and-weave strategy in round two and a thundering victory against all odds in a decisive pitched battle in Oswego during the third round against double WBC Champion Paul Gaberson.
So I've got a lot to thank him for.
Firstly, in his honour after my round three victory, I named my English short-haired pointer after him. Marquis de Montcalm (aka "Monty") was originally named Bruce when we bought him from the dog's home. But Bruce, even though it suits the dog's origins and Robert the Bruce was as legendary as Montcalm, is far less heroic a name than Montcalm. And I'm crap at Hammer of the Scots.
Above:
Montcalm the dog. Likes walks and sleeping in front of heater. Doesn't like water pistols.

Above:
The Marquis de Montcalm. Likes order and Catholicism. Dislikes rabble rousers and Canadians.
Secondly, in a workplace "get to know your team" questionnaire that asked what famous person in history I'd like to be, I nominated Montcalm. A one minute discourse in French colonial history followed my answer, but I have a suspicion nobody in the Recycled Water department of City West Water was very interested. They had guessed I'd like to be Brad Pitt.
Wrong. Firstly, that Pitt card in the campaign scenario in Wilderness War caused me serious angst when I played the campaign game as the French. Secondly, Angelina Jolie is damn scary.
Thirdly, my avatar is a terrific, hand painted resin model of the great commander, looking rather dashing.
Finally, in his honour, I've threatened to call our soon-to-be baby after Monty if it is a boy. Or a girl, for that matter. Not as a first name, but as a middle name. Aidan Montcalm or Isabelle Montcalm would be brilliant!
That's if I win my final game of Wilderness War as the French, however.

Other Famous Monty's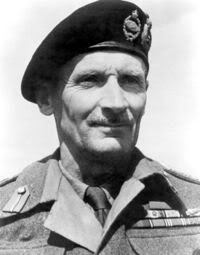 Above: Montgomery, British commander
in North Africa and then Italy and Europe. A brilliant systematic general, but generally disliked by most of his fellow allies – Montcalm was probably more popular with the British and Americans than Monty.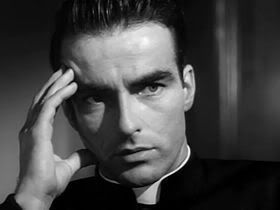 Above: Montgomery Clift
. "Monty got a raw deal" sang REM. They were referring to the actor who had the "longest suicide in Hollywood" with ten years of drug abuse and drinking. They could have also been talking about Montcalm, who would probably have been happier and more successful fighting back in France rather than going to the colonies.
Above: Monty Montahue.
Loveable geek, unlucky in love and the butt of most jokes. Once a best friend of extra-terrestrial Robotman, and more than likely a Descent game player. Best comic strip ever, drawn by Jim Meddick.
After scrapping through to the BPA Wilderness War PBeM semi-finals, I found myself on the receiving end of a fierce British flogging. This put me into the consolation play off for third and fourth against a previous opponent, current number one ranked player Ron Fedin.
In my fourth round game against Ron he'd killed Montcalm in the first few hands on the game, effectively ending any chance of a French victory. This was slammed home with a bucket load of BR reinforcement cards in the first and second turns.
This was a great chance for revenge. Yeah, nobody cares about third-fourth place play-offs, even though they tend to be far more exciting than the big final itself. Name any World Cup Football tournament, and you'll find the third-fourth playoff is a cracker.
Besides, I got to taunt Ron at the start of the game with:
"I've been waiting for you, Ron. We meet again at last. The circle is now complete. When I left you I was but the learner. Now I am the master."
BPA 6-2 Consolation Final
I bid FR1 and, for the sixth game in a row, played the French.
That's why Montcalm and I have such a close relationship and the British commander Wolfe has become so despised. A slimy, slinking commander who usurps Abercromby, Amherst and other higher ranked officers to take control of those mega stacks that sweep up the Hudson. Oh, how I despise that +2 DRM that so often brings Louisbourg down or destroys a flipped and lagging FR army. I just can't stand the glee of a BR player when he turns up in turn 2 in the first BR Regulars card played in the game.
Monty fact:
Montcalm was a soldier's-soldier, having served in the Wars of Polish and Austrian Succession (no, I don't know a lot about those wars either) before being wounded five times while campaigning in Italy in a disastrous battle for the French and Spanish forces. He was imprisoned for five months.
Early 1757
A strong opening hand:
Ambush, Northern Indians, British Assemblies
and
Courier Intercepted
. It is highly advantageous to get Assemblies reluctant early, as it often stays that way and means far less cannon fodder to deal with later on. No BR reinforcements though, so I suspect Ron has at least one of them.
I open with my facsimile move, unchanged from my previous five games:
Montcalm and force Montreal > drop Miss in Tic > remaining 10sp > HCN. You may resolve.
This has only failed once, against Ron in turn 4 when both Vaudreil and Montcalm died in the game's first pitched battle (although I'd still captured the fort at Hudson Carry North). Capturing HCN has to be a priority for the FR. It's the easiest 2VP of the game.
Ron seemed to recognise the move: "Gee, I remember this French Opening before!"
Just like before, he fails to intercept. He immediately moves Abercromby and 6x3-4 to HCN, which is also a typical BR opening after a failed intercept.
I am a firm believer that the FR should risk all to capture HCN early, so I choose to intercept Abercomby with Rigaud in CP. I make it, giving me 17sp at +2 v Abercomby's 24 at -1 (an aux). That's some serious DRM, which is why it is worth hitting the BR early. Initially, they have seriously weak commanders.
I roll a dreaded 1, but luckily the BR only manage a 2, giving us both 4 hits. I then kill Loudon in the resulting leader loss. A good, but close, result.
VPs to FR4.
HCN then immediately falls in the next card play.
Monty Fact:
One of his most famous, or infamous, victories was the capture of Fort William Henry (Hudson Carry North on the WW map) in 1757. If you've seen "Last of the Mohicans" you'll remember the Algonquian Indians massacring the surviving British who had been allowed safe passage from the fort. Montcalm was so disgusted at the massacre he offered his life to the Indians in return for the British. It stopped the massacre. The Fort William Henry incident is the reasoning behind the "Massacre" card in the game – Montcalm's victory here, in Oswego and beyond is the reason for his +2 Tactics rating.
VPs to FR6.
This is as good as the FR can hope for in the opening few turns. With full rolls of Indians on offer, I now need the
Northern Indian cards
and hope BR is bereft of reinforcements.
It isn't to be. Ron plays
BR Regulars
and gains Bradstreet (no Wolfe, yay!)
We then trade discards, Ron playing
Bigot
and me
Courier Intercept
, which gains
Quiberon Bay
. I also get the assemblies down to reluctant and roll a "3" for
Northern Indians.
We both hold our last cards. I'm guessing Ron has another BR Regulars (can't play two in the same turn). I want to keep my
Ambush
for Ohio Forks.
Ron starts towards Ohio Forks and builds a fort at Raystown. I vacated OF too early in my previous games, so this time I decide to try to hold OF until the third turn at least. I move Levis and force from Quebec to Cataraqui. I'm hedging my bets on Ron thinking Levis is heading towards Oswego, but not further, so he'll continue to burn cards advancing on OF while I get Levis down there to defend with, hopefully, a strong force.
So a very good opening.
Late 1757
Not a bad hand, plenty of 3OP cards:
Campaign, Cherokee Uprising, Iroquois Alliance.
Also
Fieldworks
, which is a great defensive card. No Indians or FR Regulars though.
I decide to play for the Iroquois, so move Levis to Niagara but drop Villiers off at Oswego. Ron knows what I was up to, but chooses to get his BR Regulars out immediately, bringing on Forbes in NY.
I build a stockade in Oswego and then in my next turn play
Iroquois
, bringing in 3 Indians – all close to Johnson's force in Schenectady.
The Iroquois tend to be the domain of the British, and they've caused me some pain in a few games, generally as threats to the stockades and Marines in the west. Under FR hands they can intercept advancing BR forces who split towards Oswego and Niagara.
Ron then gets the hated Wolfe into the game with
Light Infantry
, placing them both in NY. This is a bummer. It makes the Ambush redundant for Montcalm and now I had a serious threat coming up the Hudson. He plays a Campaign and brings both Wolfe and Johnson to HCN, meaning Ticonderoga is looking like a seriously dodgy place to garrison. But I choose not to destroy the fort yet.
I take Levis and a force of 12sp to French Creek, giving away my strategy of defending Ohio Forks.
Ron starts to build a fort in HCN. It looks like he is planning the steamroller strategy – build up a big, big force with Wolfe and then plough through up the Hudson, attritioning Montcalm on the way, and then capturing Montreal.
I need reinforcements badly.
After a bit of shuffling around of forces, Ron continues to advance towards OF, I get myself into wintering positions and then bring over one 3-4 from Louisbourg (I don't want to vacate just yet).
I attempted just two raid rolls in the entire year, making my first and giving me a valuable VP.
VPs up to FR7.
As a rule, I generally don't raid a huge deal, particularly early on in the game. I find once you hit FR7 or 8 VP you've got enough VPs to cover you the rest of the game. I aim for 1VP each year in raids, and then I prefer to use Indians as speed bumps, intercepting forces or canon fodder – especially if the BR looks like they are trying for an automatic win rather than a VP win. All the raiding won't do you any good if Montreal and OF fall.
One mistake I notice from newbies is the early use of Indians to raid. I always felt you're better setting your forces up, going for HCN and then making sure you have surplus Indians in 1756 – and then raiding. Once my first VP comes up in 1755 from raids I generally stop raiding for the turn.
Montcalm fact:
Just like me, Montcalm was not a fan of sending the raiding parties out either. Unlike other FR leaders such as Rigaud and Villiers who propagated for increased raids to force the British settlers to sue for peace, Montcalm did not believe the war could be won with his Indian allies – besides, as a European officer, he abhorred torture, the taking of slaves and plunder. He felt that the war could only be won with a large force of drilled troops in large, significant battles.
Early 1758
Average hand, possibly good defensive cards –
Small Pox, Foul Weather, Northern Indian.
I'm getting anxious with Montcalm in Ticonderoga. Wolfe is definitely going to attack, but I gamble on winning a 28sp even match up, then destroying the fort with the VP gained.
Ron gets another
Lights
card while I shift around my forces to get Montcalm's force up to full strength.
I roll a 4 for
Northern Indian
, using them to boost Montcalm's forces, then use Rigaud in Oswego to boost Levis' force in Ohio F.
Then the Wolfe pack attacks at 28sp a piece.
I just need to roll evens with the BR, but it doesn't happen. He rolls a 5, me a 3, giving the BR an 8 v 6 victory. Could be decisive (Ron: Obviously I got very lucky. That could be the die roll of the game.).
VPs down to FR6.
I will lose Ticonderoga as a result, and with maximum losses and the BR still at 28sp, I choose to destroy Crown Point.
VPs down to FR5.
I
Small Pox
Wolfe's forces, rolling a 4, in an attempt to bring him under 28sp. He is unperturbed, capturing Tic.
VPs down to FR3.
Worse is to come. He is now adjacent to OF with a large force, including the light infantry units, making my ambush card useless. Then he plays
Courier Intercepted
. I lose a card, and OF is under threat. I have to destroy it and move out.
With OF gone, I don't need the supply route, so all three stockades are burnt along the river and Levis and force retreats back to French Creek.
VPs down to FR2.
With Wolfe in a brand new spanking fort in Ticonderoga and OF about to be leased out to the Brits, things are looking poor. Those VPs fell very, very quickly and Montcalm's force is flipped and at 18sp.
I'm in trouble.
Late 1758
I'm happy to find
British Ministerial
in my hand, as I'm pretty sure Ron now has the big
Highlander
card. Otherwise, a fairy even hand of 1, 2 and 3 OP cards, including
Troop Transport
and another
Northern Indian
.
British Assemblies
ensures assemblies will remain reluctant.
I need a far better turn than the last one.
Ron has to remove a card, but it turns out to be
Victories in Germany
. Not bad, but it doesn't prevent him from playing Highlanders with Amherst. For the third game in a row I'm facing almost the entire BR force in the first 3-4 turns. It isn't always this good for the BR. Wolfe didn't turn up at all in the BPA Final.
Troop Transport
boosted my depleted force under Montcalm, which is now strengthened by full Indians as well. I can face another Wolfe onslaught.
I start raiding, successfully with my first attempt, while Ron starts to systematically build forts up the Hudson.
It is a quiet end to the year. I'm happy to see Monckton leave Halifax for New York and immediately take Drucour to Quebec. I've had most of the amphibious assault cards, and Ron never did build up a force in Halifax. It's safe now. Unlike Niagara. I'm fairly sure Ron is going to either use his force at Ohio Forks or New York to head towards the Niagara fort, so I build a stockade in the Mississauga settlement for retreat purposes and Rigaud and around 14sp split between Miss and Niagara. Enough to hold off an assault. Indians and CdB are kept as speed bumps right along Lake Eire.
The year limps to a close with no battles at all this season. Everything is set for a big finish though. Albany has almost 40sp, although three-quarters of the force is flipped, while the force at Ohio Forks is full and at 18sp.
VPs up to FR3 for raids.
Early 1757
Cards, besides a
campaign
and
Victory in Germany
, are fairly poor this turn. Too many 1OP cards. My
Northern Indians
, which I've thankfully received a load of this game, will be rolled at half value – luckily my Indian force is almost at full strength, as my raiding has been limited. They'll be seeing some action this turn.
I get Drucour to Montreal with Montcalm, but still only have 26sp there. At least most are full and I'm hoping ViG flip them all back to full.
Meanwhile Wolfe has advanced to Winooski and Amherst has peeled off with a smaller diversionary 22sp force from Montreal to move to OCE. This is going to be big and Niagara is now in peril. But I have the route well stocked with three auxiliary and my Iroquois, at full, can block supply. I also have a small force back in Oswego to threaten Amherst, who has no retreat as Canajahorie is wilderness and empty.
I decide to try to hit Amherst with two auxiliary in order to knock him down to 21sp, and thus a level down in the combat table. This is something I noticed Master James Pei do in the final. He threw six aux Indians against a force that had been largely flipped, which not only knocked down full strength units, but ended up flipping and removing a couple after he rolled 4+ in nearly every roll. There's also the chance of killing a leader.
I manage to knock Amherst's force down to 21sp, as I'm fairly sure Amherst is going to attempt to advance this turn.
This doesn't turn out to happen, as Ron decides to continue to advance towards Montcalm in Montreal. I have a small force in Ill-aux-Noix, enough to get to 30sp if I intercept Wolfe. With ViG, I'm actually hoping for a battle as a big roll would both flip and start removing Wolfe's force – besides, the stockade will give me a 75% chance of success.
Wolfe takes the bait and Montcalm intercepts into Ill-aux-Noix.
Ron rolls a "3" and I roll a "1". For a moment I think I'm beaten, but thanks to the stockade the result is 5 v 5. Then I manage to kill Forbes. But it was a poor roll – Wolfe's huge force is now entirely flipped, and a roll of just 3 would have started to remove his force.
VPs up to FR4.
I immediately play
ViG
, and immediately roll another 1. Even worse, Ron plays
Troop Transport
and flips back six regulars. My plan is now not looking so good. No wonder Wolfe was so eager to advance.
Meanwhile, Dumas gears up for a guerrilla campaign (historically, he was a fan of the grab and run tactic). I divert him, a 1-4 and a 1-6 to Adirondacks Central in an effort to cut supply. Wolfe has left the entire chain of forts empty along the Hudson, and I need to threaten supply in case Wolfe breaks through to Montreal.
This supply-cut strategy worked extremely well in game 2 when I faced another steamroller strategy against Amherst, particularly as some of the fortifications were stockades. I took Montcalm's entire force and kept peppering the spaces and retreating when Amherst attacked.
Ron doesn't wait for Dumas to break through, instead attacking Ill-aux-Noix with a 39sp stack. I have by now, unfortunately, removed the stockade. I'm not expecting Wolfe's move, and thanks to a well timed Bigot card that loses me my 3OP card, I fail to get another Indian into the stack and crank it up to 28sp.
I don't think I can handle another major battle, so attempt to take Montcalm back to Montreal - and unexpectedly fail – another '1'. It's the first time I've failed to intercept or avoid with Montcalm for a long, long time.
The resulting battle is a bloodbath on both sides, both of us rolling a 6. 8 v 7, some serious denting in both forces. Miraculously, both sides avoid leader loss.
VPs down to FR3.
With Montcalm's bloodied army in Montreal, the turn ends on a knife edge. With the BR at Montreal's doorstep and the VP count on a downward spiral, I have to hope for a BIG last card hand and a successful guerrilla campaign from Dumas, who finishes the turn moving into the one empty space in HCN, temporarily blocking BR supply. With a BR steamroller strategy, it's all about trying to burn his card plays up, and intercepting supply routes is a great way to do it.
Late 1557
At last,
FR reinforcements
. In fact, it is a terrific last hand – similar to my card hand in my third round battle against Paul –
Courier Intercepted, Ambush, Fieldworks, Campaign.
Brilliant.
Ron withdraws from the Niagara front, taking Amherst back along the Hudson and up to Wolfe's position, dropping off the few remaining
Provincials and Regulars
to guard the HCN, Tic and Crown Point.
Dumas tries to avoid the force and again I rolled a '1' and fails. For the third time in a row, BR rolls a 6, killing off both units. Dumas escapes, but the supply threat is removed. I wasn't expecting a battle either.
VPs down to FR2.
With Amherst now in command, Ron has his force well over 28sp strength. I play a campaign to bring Villiers and a larger 10sp force to Green Mountains North to continue to harass the BR supply line while Rigaud goes to Quebec to pick up the new arrivals.
Montcalm is not in Montreal at this stage, I've retreated him back to St Jean instead after my last battle. I didn't want to retreat from Montreal to Kahnawake if I lost the next battle, as it would allow a clear run for Wolfe to siege Montreal – I wanted to be able to move back to Ill-aux-Noix and use my
ambush
.
Wolfe attacks Montreal but not before I reinforce Montcalm, and Montcalm's force, despite rolling a 2, intercepts. I then play my
fieldworks
card.
Incredibly, BR rolled another 6 in attack, but my 5 roll ensured a FR victory, 7 v 8. This also decimates Wolfe's forces, while my play of two
militia units
allows me to remove marines, 0-6 CdB and militia, leaving my regulars intact.
Militia are very useful to the French if the BR are threatening Montreal or Quebec. They can bring several SP to a force, but more importantly are drilled, so it allows them act as fodder in the front ranks, leaving the 3-4 Regulars at full.
Monty Fact:
Much like a Detroit Red Wings fan caught up in the middle of a home Toronto Maple Leafs game, Montcalm didn't enjoy his time in New France. Like a lot of French players who basically ignore the Militia, Montcalm had a particular disdain for the Canadians. He thought Canadians to be unprofessional and unreliable, a brief step up from the Indian savages and vastly inferior to the French professional soldier. He felt they couldn't be relied upon to defend the country, and even as he lay dying after the siege of Quebec, he had nothing but contempt for his men.
VPs up to FR3.
This is a big victory, and it also gives me fieldworks in Montreal. I even survive the leader loss rolls again.
Ron knows time is short, so he sends Amherst and 28 + sp force to St Jean.
I've left a 0-6 Indian in St Jean to block an advance, but with the last victory I can afford to intercept and lose the battle, as long as I stop Amherst who I know is going to drop off Wolfe and head towards Quebec. Wolfe can then intercept Montcalm if I move into an empty Ill-aux-Noix.
I make my intercept roll with 4sp and a solitary Montcalm.
I only want one hit, which I get, but Ron rolls another 6. I didn't want Montcalm to die just yet with Wolfe in St Jean!
VPs down to FR2.
Montcalm avoids the bullet.
For my potential coup d'etat I then play my
Courier Intercepted
, something I'm sure Ron was not expecting this late in the game.
My hands are shaking when I press the dice request. If I stuff this I am two cards down and I'll give Ron the chance to siege Quebec in the last card play, as he'd have a clear run.
I make it, and Ron knew his chances are slim.
With time running out and two cards left in his had, Ron chooses to head towards Quebec with Amherst and 4sp. I only need to intercept and kill him off, which I do with 22sp and Montcalm.
I intercept Amherst, who then rolled the dreaded 6 – 1 combination. Man, I'm relieved I've intercepted with a force that guarantees victory: 4 v 4. Just make it. But that's 4 x 6s in a row for the British!! Incredible.
VPs up to FR3.
Montcalm, after dodging three consecutive leader loss rolls, can't dodge a fourth and dies, but with full battle honours. I don't think I've ever had so many leader loss rolls against me, but with only one leader dying, I get out of it remarkably well.
Monty Fact:
Montcalm died at the Plains of Abraham during the siege of Quebec in 1759. Grapeshot has ripped his leg and stomach open during a retreat from the battle, and he died the next morning, praising his enemy and cursing his own men. The British Commander Wolfe also died from wounds, with his second in command Monckton getting one in the lungs for good measure. In fact, it wasn't a good war for the leaders featured in Wilderness War. Most of them came up short, dying at fairly regular intervals (hence the quite brutal leader loss rules in the game).
With the British firmly in French territory, but with only one card left, Ron resigns and I'm ready to convince my wife that Montcalm is indeed a grand middle name for a girl.
I've come third in the BPA PBeM championship! And I'd beaten the number one ranked player in the world!
And this game was more proof that third v fourth games can be incredibly exciting.
Famous Last Words
The British had a good game, but the scenario dictates they need a great game to win. People forget the AM scenario isn't about Britain "winning" the war, it is about equalling or bettering the historic "year of victory". As the British, you can win every battle and be on the verge of annihilating the French, but you can still lose the game.
Ron was systematic in his approach – and he got the rolls, but the steamroller war of attrition didn't quite come off. He lost as many units as I did, but I managed to reinforce with auxiliary, while he lost regulars.
Reluctant Assemblies sure helped me in this game – there was probably only one or two provincials left on the entire map by the end. I was also aided by large numbers of Indians that put Ron off trying to Niagara, and a great last hand. Ron is a very good player (he's ranked number one for a reason) and is a very friendly, calm opponent. It was great to play (and beat) him!
So, that ends two years of my life – the Montcalm years. Six rounds of three-four months each, all played as the French. And I'd like to think Montcalm and I are closer as a result. We've laughed together (witnessing Paul Gaberson fail to assault an empty fort in Niagara). We've cried together (Montcalm's early demise in round four) and we've had a great time crushing the life out of stacks of British Highlanders.
Thanks Monty!
Above:
The map after Ron resigned